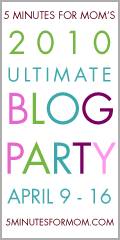 After reading a post at
Couponing to Disney
, I decided to Participate in this year's Ultimate Blog Party hosted by
5 Minutes for Mom
. Since I am relatively new to blogging, I thought it would give me a great opportunity to meet other fellow bloggers and have others come join my journey as a new blogger.
Bloggers and Non Bloggers are invited to participate in the prizes so make sure and stop by their Blog to check it all out.
If you found my blog thru the Blog Party, Welcome! My name is Tania Lopez. I am a new stay at home mom to a beautiful baby boy who will be two this July. I resigned as a Transportation Engineer in October 2008 to stay home with my son. I started blogging in March 2010. I did post some things in 2009 but I really got into it this year. I post mostly about Baby and Children advice for new moms and repeat moms too. I also post about saving money and my daily journeys as a mom and homemaker.
The Ultimate Blog Party has about 100 prizes listed so far.
My favorite prizes are
You know I LOVE Jillian Michaels so I had to choose #105 – Get Fit Pack: One "lucky" winner will get a triple threat of Jillian Michaels. Pack contains 30 Day Shred, Yoga Meltdown, The Biggest Loser Last Chance Workout. Pack also includes an aluminum water bottle to help stay on track and stay hydrated! Thanks Green Mom Wannabe
#112 - $50 Amazon Gift Card Thanks Our Homeschool Home
#19 – Prize package of preschool toys! KOTA & PALS HATCHLINGS – (PLAYSKOOL/Ages 3 years & up/Approx. Retail Price: $14.99), TONKA CHUCK & FRIENDS CHUCK MY TALKING TRUCK (TONKA/Ages 3 years & up/Approx. Retail Price: $34.99), PLAY-DOH Coco-Nutty Monkey (Ages 3 years & up/Approx. Retail Price: $12.99), PLAY-DOH MINI BUCKET (Ages 3 years & up/Approx. Retail Price: $4.99)
If the above are already taken, then my next favorites in order or preference are #49, #61, #71, #107, #32, #73, #74, #87, #31, #52, #55
From the US and Canada list in order of preference #3, #15, #32
For additional details, please visit the official
5 Minutes for Mom Ultimate Blog Party 2010
post.
Have fun and see you all there!!
Tania